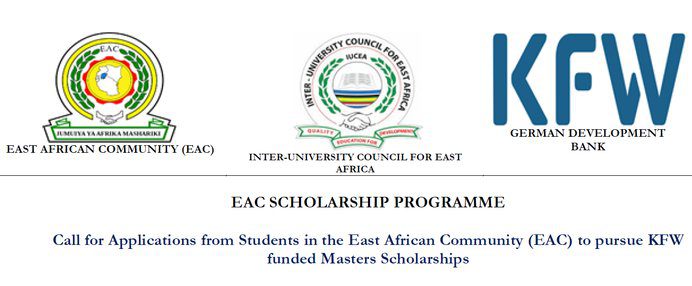 Application Deadline: 1st August 2019, not later than 17:00 hours East Africa Time.
The EAC Scholarship Programme is an initiative by the East African Community (EAC), the Inter-University Council for East Africa (IUCEA) and German Development Bank-KFW. The project begun in 2018 when the EAC and IUCEA entered into a memorandum of understanding (MoU) with KFW geared towards the training of students within the EAC region. This Project aims at creating future change agents, who identify themselves with the integration agenda of the EAC and are willing to share economic and development-oriented expert knowledge. The goal of this initiative is to contribute towards training leaders that will foster EAC regional integration.
This goal will be partly achieved through the establishment of academic collaboration and an exchange programme between universities/Institutions within the EAC region, by encouraging students to study in countries other than their own. In order to achieve these impacts, the project offers a comprehensive package including scholarships for masters programmes, internships, mentoring, networking events and further leadership training activities.

The scholarship will support masters students in Mathematics, Engineering, Informatics, Science, Technology and Business Science programmes. The programme will include a minimum 30 percent females students in order to support women's participation and enhance gender equality. IUCEA hereby invites applications from students who are citizens of the East African Community (EAC) Partner States to apply for the KFW funded Masters Scholarships.
Objective
The objective of the programme is to train masters scholars who will serve as change agents for regional economic development and integration in the EAC.
Requirements:
Selection Criteria
The following criteria is mandatory. Students should:
a) Be citizens of a partner state of the East African Community;
b) Possess the required academic qualifications for admission to the programme
c) Submit a well written motivation letter in English elaborating on the following:
 Motivation for wanting to pursue a the Masters Programme chosen in section 2 above
 Foreseen professional engagement in EAC Integration agenda after completing the Masters
 Expect application of the acquired skills and knowledge from the Masters Programme to contribute the EAC Integration Agenda
 Personal professional and academic vision in the next 5 to 10 years
Note: Please note that all the above should be covered in one letter of not more than 500 words
d) Be below 35 years of age
e) Have applied to study in an EAC Partner State other than their country of citizenship
Design
The project offers financial support to academically skilled and disadvantaged masters students with the main focus on priority programmes. Women and persons with disabilities are encouraged to join the programme. Masters students shall be given a fixed amount of money to cover living as well as costs for teaching and research materials. The students shall be required to apply to study in an EAC Partner State other than their own.